Mushrooms Lasagna
Net Weight: 300 gr.
Storage: at room temperature in a cool and dry place
Shelf-Life: 12 months
Min Shelf-life from delivery date: 10 months
Transport Condition: temperature between 0°C and 25°C
Storage after opening: keep refrigered and consume within 24 hours
Ingredients(*): bèchamel (water, butter (MILK), WHEAT flour, sunflower oil, salt, broth (CELERY), seasoning), pasta( durum WHEAT semolina, EGG),  mixed mushrooms in variable proportion 23%( champignon, Boletus luteus, Pleurotus ostreatus, Pholiota nameko, Lentinus, edodes, Boletus edulis and related group, Boletus badius), powder cheese (MILK), extra virgin olive oil, white wine (SULFITES), salt, aromatic herbs, spices, seasoning.
(*) in UPPER CASE and bold allergens

Data Sheet EN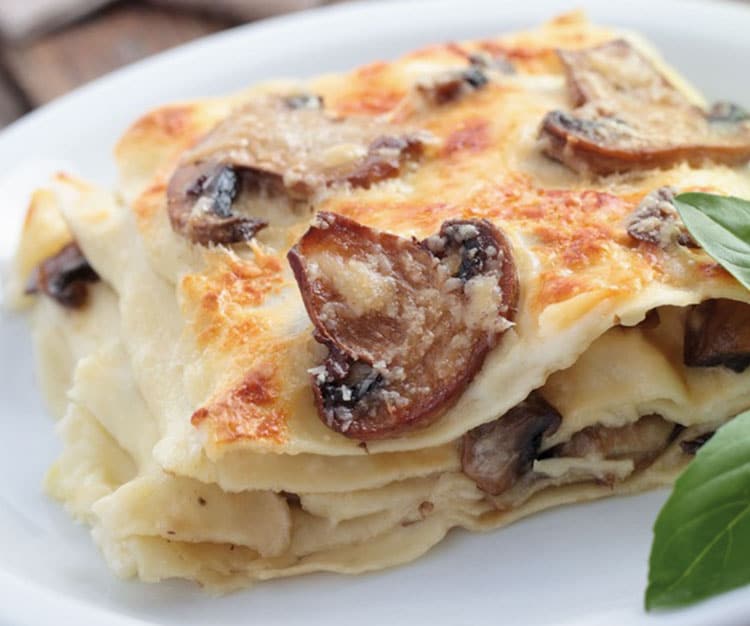 The published images are for illustrative purposes only
NUTRITION FACTS 

 referred to 100 gr. of products

Energy Value Kcal/kJ
115/480
carbohydrates
12,40 gr.
sugar
0,90 gr.
Protein
3,40 gr.
Fat
5,10 gr.
Saturated Fat
2,70 gr.
Fibers
1,45 gr.
Salt
0,50 gr.