Fusilli pasta with meat sauce
Net Weight: 300 gr. (170 gr. rice, 130 gr. sauce)
Storage: at room temperature in a cool and dry place
Shelf-Life: 12 months
Min Shelf-life from delivery date: 10 months
Transport Condition: temperature between 0°C and 25°C
Storage after opening: keep refrigered and consume within 24 hours
Ingredients(*): tomato pulp (tomato pulp, tomato juice, acidity corrector: Citric acid, durum WHEAT semolina paste, beef meat 11% , pork sausage 7% (pork meat, water, salt, sugars: dextrose, spices, flavourings, Acidity and 262, antioxidant and 300), tomato paste, extra virgin olive oil, CELERY, carrots, onion, red wine (SULPHITES), sunflower oil, butter (MILK), sunflower oil,  cheese powder (MILK), sugar, meat broth (CELERY), vegetable fiber, salt, aromatic herbs, spices, aromas.
(*) in UPPER CASE and bold allergens

Data Sheet EN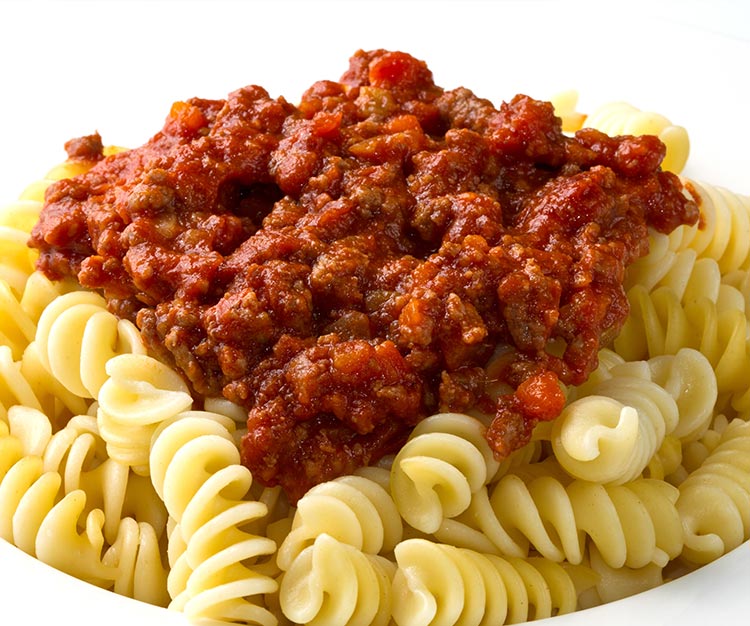 The published images are for illustrative purposes only
NUTRITION FACTS 

 referred to 100 gr. of products

Energy Value Kcal/kJ
183/765
carbohydrates
27,00 gr.
sugar
3,00 gr.
Protein
7,00 gr.
Fat
6,00 gr.
Saturated Fat
2,00 gr.
Fibers
1,20 gr.
Salt
0,70 gr.